Welcome to the



AHMC365 Newsletter



October 2017
Vol 42
HARLEM STREET RENAMED
ELOMBE BRATH
The great Pan-African leader Elombe Brath's legacy will be recognized Friday, June 23, when the southwest corner of Adam Clayton Powell Jr. Boulevard between 124th and 125th Streets in Harlem officially becomes Elombe Brath Way. Better known simply as "Elombe" to his many admirers in New York, the United States, in Africa, the Caribbean, South America and other African Diaspora, Brath died May 19, 2014 at the age of 77 after a long illness. There will be a ceremony Friday but the bigger celebration will be on Elombe Brath's birthday on September 30, according to one of his sons Cinque Brath.
Featured News
Unlimited Imperialism History of American Militarism

It is the Unlimited Imperialists along the line of Alexander, Rome, Napoleon, and Hitler who are now in charge of conducting American foreign policy…Historically this latest eruption of American militarism at the start of the 21st Century is akin to that of America opening the 20th Century by means of the U.S.-instigated Spanish-American War in 1898. Then the Republican administration of President William McKinley stole their colonial empire from Spain in Cuba, Puerto Rico, Guam, and the Philippines; inflicted a near genocidal war against the Filipino people; while at the same time illegally annexing the Kingdom of Hawaii and subjecting the Native Hawaiian people (who call themselves the Kanaka Maoli) to genocidal conditions.
Trump has declared War on our country

The North Korean foreign minister Ri Yong-ho said: "The whole world should clearly remember it was the US who first declared war on our country." He referred in particular to Trump's tweet on Sunday that warned that the regime's leaders "won't be around much longer". In his first address to the UN last Tuesday, Trump had also warned that if the US and its allies were attacked, he would "totally destroy" North Korea. Ri said the UN and the international community had hoped that the war of words between the two countries would not turn into "real action".
The US Economy is Falling
Ethiopia Wants To Be Africa's No. 1 Auto Manufacturer - See more at: http://afkinsider.com/126810/ethiopia-wants-to-be-africas-no-1-auto-manufacturer/?utm_source=AFKInsider+Newsletter&utm_campaign=649b189057-AFKInsider_Newsletter_6_2_20166_2_2016&utm_medium=email&utm_term=0_0aff70cb26-649b189057-177209109#sthash.9skvXTfG.dpuf
Do the Wall Street Journal's editorial page editors read their own newspaper? The frontpage headline story for the Labor Day weekend was "Low Wage Growth Challenges Fed." Despite an alleged 4.4% unemployment rate, which is full employment, there is no real growth in wages. The front page story pointed out correctly that an economy alleged to be expanding at full employment, but absent any wage growth or inflation, is "a puzzle that complicates Federal Reserve policy decisions."
Diaspora News
The Top 10 Cities For Black Business

In 2015, Nerwallet conducted a study based on US Census Bureau Statistics Data, analyzing entrepreneurial activity in the black community for 107 US metropolitan areas (those with populations over 100,000). Based on that study, a ranking of the best 10 metropolitan areas for black entrepreneurship was provided. Using the same methodology and, for the most part, the same databases, Blacktech Week has taken a new look at those metropolitan areas, to see whether the same level of attractiveness for black entrepreneurs still holds. We also looked at how those same cities ranked on Kauffman Foundation's 2017 Index of Startup Activity, to showcase how black entrepreneurs actually fare in cities ranked on the Kauffman list.
Ethiopian Refugees Achieves American Dream
So he began as a dishwasher at the Hilton Hotel, earning $5.65 an hour. Eventually, he held as many as three jobs at once, including ones at manufacturing companies and another as a security guard.The small paychecks of those days are long gone for Tufaa, who is now president of a successful bus company.Each day, Metropolitan Transportation Network carries more than 15,000 children to schools, field trips and other destinations in Minneapolis and other Minnesota cities. The multimillion-dollar transportation company has more than 300 employees and recently moved to a new, larger operations center.
Read More
African News
Africa's Top Property Developments

The recent Africa Property Investment (API) Awards recognized innovation and outstanding achievement across the entire property industry in seven categories. The categories include Best Retail Development, Best Mixed-Use Development, Best Commercial High-rise Development, Best Architectural Design, Best Green Building in Sub Saharan Africa, Best Hotel Development and Best Housing Development. Property development projects were selected based on location, infrastructure and transport access, integration into the environment, originality of the concept, technical and architectural quality, services offered, sensitivity to the local community, innovation, sustainability, corporate staff involvement, response to market demands, financial performance, occupancy, and the impact of the project on economic convergence. The winning developments came from Ghana, Kenya, Nigeria, Mozambique, Namibia, and Rwanda.
African Government's actions push people into extremism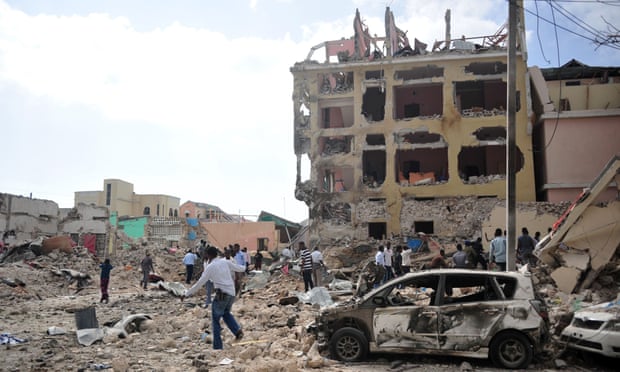 Hundreds of violent extremists in Africa have told researchers that government action aimed at countering terrorism and insurgency across the continent was the "tipping point" for their decision to join an extremist group. The finding, in a United Nations study published on Thursday which is one of the largest of its kind, is likely to prompt controversy. Authorities are battling jihadi groups such as Boko Haram in West Africa and al-Shabaab in East Africa, as well as Islamic State and al-Qaida offshoots in the Sahel, often with the support of the US and other western powers.
New mummies discovered in tomb near Luxor, Egypt




Archaeologists in Egypt have discovered the tomb of a royal goldsmith containing the mummies of a woman and her two children, authorities said. The tomb, dating back to the New Kingdom (16th to 11th Centuries BC), was found near the Nile city of Luxor, 400 miles (700km) south of Cairo. Among the items discovered inside was a statue of the goldsmith Amenemhat, sitting beside his wife.It is unclear whether the three mummies discovered are connected to Amenemhat.The mummies were found down a burial shaft leading off the main chamber, Egypt's Ministry of Antiquities said.


Tributes to Betty Campell,
Wales's first black headteacher

Previously former pupils have spoken about how every month at school with Mrs. Campbell was Black History Month. Mrs. Campbell herself said: "When I was ahead in my school I looked at black history, the Caribbean, Africa and slavery and the effects. "That was just a junior school but there were people that said 'You should not be teaching that'. "Why not? It happened. Children should be made aware.