Welcome to the



AHMC365 Newsletter
Vol 46
February 2018

Haitian Pumpkin Soup



This is the season for pumpkin: the big orange squash is everywhere, in stores, drinks, fragrances, decorations. It's Halloween tradition. But there's another pumpkin tradition with which you may not be familiar. Haitians celebrate New Year's Day with soup joumou, a concoction of pumpkin, beef, onions, garlic and more. Why? "Liberty in a Soup," a documentary premiering Oct. 9, explains. Filmmaker Dudley Alexis says the project was inspired four years ago by a chatty Las Vagas cab driver. "He asked where I was from, I said I was from Haiti," says Alexis, 32, who moved to South Florida in 1999. "We started to talk about the Haitian revolution. He was talking about how he was a big fan of Haitian culture. Surprisingly, he knew about the soup." Before 1804, soup joumou was a forbidden delicacy, prepared by enslaved people but only to be consumed by their owners. A successful struggle for independence changed that.

Featured News
Student Debt Slavery
The lending business is heavily stacked against student borrowers. Bigger players can borrow for almost nothing, and if their investments don't work out, they can put their corporate shells through bankruptcy and walk away. Not so with students. Their loan rates are high and if they cannot pay, their debts are not normally dischargeable in bankruptcy. Rather, the debts compound and can dog them for life, compromising not only their own futures but the economy itself. "Students should not be asked to pay more on their debt than they can afford," said Donald Trump on the presidential campaign trail in October 2016. "And the debt should not be an albatross around their necks for the rest of their lives."
A Lot Wrong about the
Queen's visit to Ghana

The crown on netflex is a show about the life of Queen Elizabeth II, rich with period detail. Rich, that is, until the first scene in episode eight of the second season, which opens in an ersatz orientalist fantasy palace that's supposed to be in Accra, Ghana. Ghana's first president, Kwame Nkrumah (played ably by British actor Danny Sapani—at least until the soul-curdling moment he tries to speak Twi) stands at a podium talking about forging new alliances among African states. A confederation of African stereotypes looks on approvingly.
Al Sharpton torches Trump in MLK Day op-ed

Rev. Al Sharpton heavily criticized President Trump in an op-ed marking Martin Luther King Jr. Day, accusing his administration of "undoing the progress" of the civil rights movement and emboldening racist ideologies."A half-century ago King led a movement — a movement that was predicated upon securing voting rights, job opportunities, fair housing, educational opportunities, an end to racial discrimination and ending income inequality," Sharpton in an op-ed published Monday by NBC News. "Today, in 2018, we find ourselves at a crossroads: Everything King fought so tirelessly for is under attack once again."
Read More
Diaspora News
African Universal Celebration

It is important for Africans to become acquaint with heroes such as: the enslaved African-Mexican Gasper Yanga along with Abdias do Nascimento, a Brazilian writer, painter, politician and scholar.
Holiday Seasons
From eyes of Africans, today's world is a living legacy of western culture's dominance that is laden with misconceptions, distortions, along with misinterpretations. These holidays are from their point of view. Another spectrum, is global African communities (whom are descendants of slavery, as well as those born on the motherland) never investigate why they celebrate them. Only a few Africans research these traditions leaving an overwhelming majority that practice them without asking any questions.
Read More
Fashion brand H&M apologizes for ad of black boy in 'Coolest Monkey' hoodie

Swedish fashion brand, H&M have attracted a strong social media backlash after what most people considered a racist photo appeared on their website.The said photo showed two boys wearing hoodies on H&M's United Kingdom store website. It turned out that the inscription on the respective apparels was the source of the Twitter outrage. Whereas the white boy's hoodie read: "Mangrove Jungle Survival Expert," that of the black boy was "Coolest Monkey In The Jungle." CNN quotes a company spokesperson as saying H&M was sorry if the ad offended people: "This image has now been removed from all H&M channels and we apologize to anyone this may have offended." That has done little to appease persons angered at the photos.
I Left Christianity for an Ancient African Faith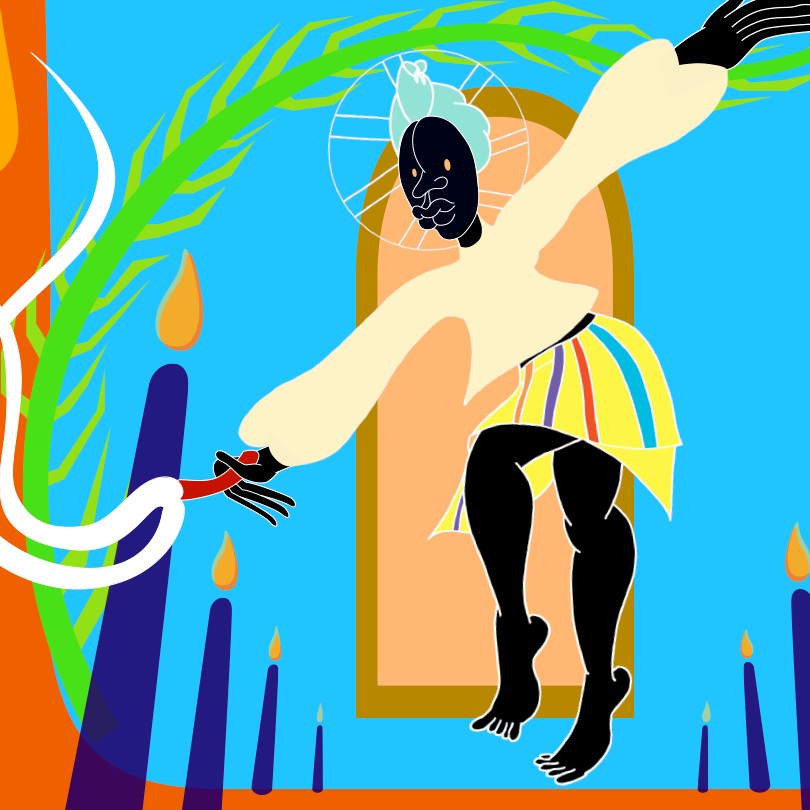 When my father died, I stopped believing in God. I was 15 years old, and it was 2009. He passed away from a heart attack on the front porch of our home. My family tried to comfort me with sayings like "the Lord has called him home," but these words offered me no solace. I couldn't understand God's plan as I grappled with how empty I felt. I missed him so much. I'd call his cell phone just to hear him on voicemail. Before my dad transitioned, I was a part of the vast majority of African Americans in this country who belong to the Christian religion.
History Tidbits
The Writing Systems in Africa

The neocolonial school system has taught and keeps teaching the Africans that orality is the only mean by which Africks used to give knowledge and memory. This is completely untrue because Africa offered writing to humanity but also different types of writing were created all over the continent since the antiquity until today.
http://whc.unesco.org/en/list/18
Rock-Hewn Churches,
Ethiopia Lalilbela
he 11 medieval monolithic cave churches of this 13th-century 'New Jerusalem' are situated in a mountainous region in the heart of Ethiopia near a traditional village with circular-shaped dwellings. Lalibela is a high place of Ethiopian Christianity, still today a place of pilmigrage and devotion.